Gab Captcha 1.0
GabSoftware proudly present its captcha plugin for the comment section of WordPress based blogs, Gab Captcha.
Important note: for a more efficient solution, have a look at Gab Captcha  2.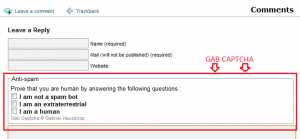 Based on the simple but efficient Amcaptcha from Alexey Moskovsky (with great thanks), Gab Captcha improved the security and customization of the plugin, but not only. The interface has been improved and the code has been cleaned up. Valid XHTML should be produced as well now. It is now possible to display 3 questions and to specify whether each checkbox should be checked or not by humans, thus improving security against spam bots. The three questions can be modified as well, as it was possible to do it on Amcaptcha.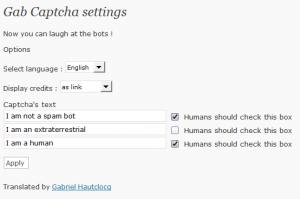 The installation is quite straitforward : you only need to copy the file gabcaptcha.php in your wp-content/plugins directory of your WordPress blog and to activate it in the administration interface of your blog. You can eventually change the settings of the plugin (recommended).
To uninstall Gab Captcha, simple deactivate the plugin then remove gabcaptcha.php from your plugins directory.
With Gab Captcha, spam should now be a thing of the past !
You can download Gab Captcha in the downloads section.