Presentation
If you installed Windows Vista, Windows Seven, Windows 8, Windows 8.1 or Windows 10, you probably already noticed that Microsoft removed the blinking icon which provided information about the network activity and connectivity in the system tray. The new icon does not give you any information about incoming and outgoing traffic activity, and now only give you the choice to open the Network and Sharing Center and to resolve connectivity problems, no direct access to the network interfaces of your computer is provided anymore. This is a notable regression in functionality, if you come from the 2000/XP world. Luckily, there is a solution.
GabNetStats is a small utility that restores the blinking network indicator back in the notification area of your Windows Seven or newer operating system, among other features. It visually looks like exactly the same as the icon  found in the Window XP system tray and blinks depending on network traffic. Here is an overview of the features of GabNetStats :
Blinking icon with customizable refresh speed for a quick overview of network traffic and status. You can if you want create your own icon set, we provide two: "xp" and "gnome".
Direct access to the network adapters settings and to various network configuration related applets using an intuitive and visually appealing context menu, no need to pass through the tedious Network and Sharing Center anymore. Ethernet, Bluetooth and Wireless 802.11x network interfaces are supported.
Auto-ping feature: sometimes your network interface is up, but still for example on 3G/4G mobile connections you loose internet connectivity. So you can define a server to ping periodically and it will display the result in an icon. Green = connection OK, orange = host seems to be unreachable, red = host is unreachable. You can also display a notification when a change in connectivity is detected.
Quick view of which network adapter is connected or not, as well as its maximum speed; if connected, the IP address and the current connection speed will be displayed.
Simple and instantaneous network statistics pop-up when left-clicking on the notification area icon. You can define which network adapter participates to the statistics in the "Network adapters" context menu. The refresh rate is the same as the one for the notification area icon.


Advanced network statistics when clicking on the "advanced" button

IPv4 and IPv6 protocols statistics
Per interface statistics
Global statistics
TCP & UDP statistics
TCP & UDP connections and listeners
ICMP statistics
Statistics are updated in real-time, using the same time interval as for the blinking icon
Overview of the advanced statistics window :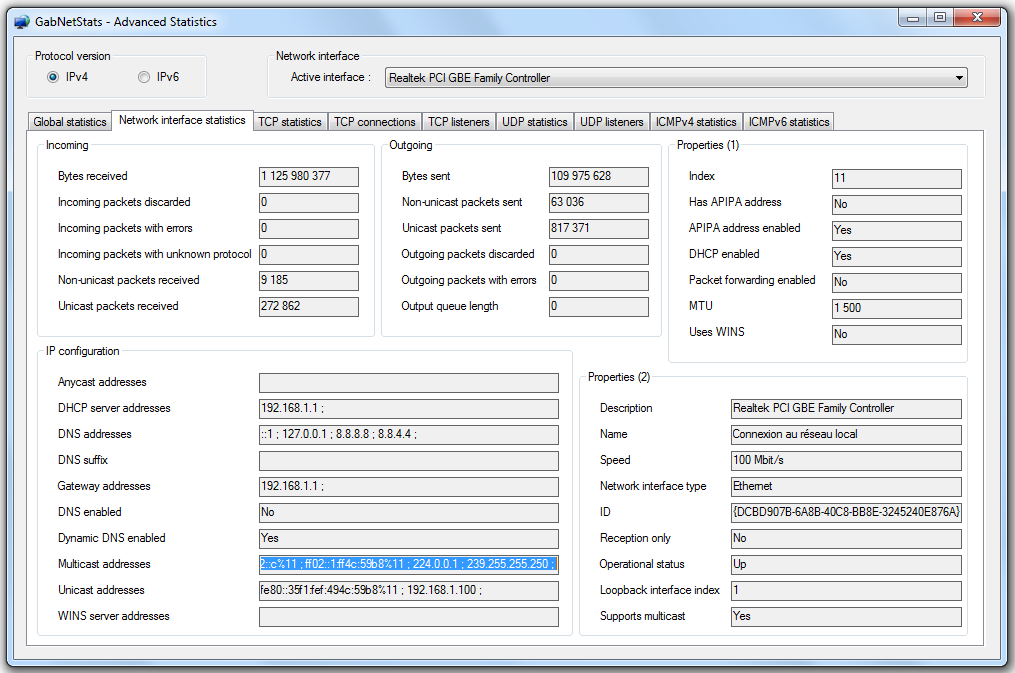 Low system resources consumption
No installation required. Just run the executable !
Last but not least, GabNetStats is open-source and FREE for personal use ! (*)
If you miss these functionalities in your Windows Vista/Seven operating system, then this utility is a must-have !
System requirements
Windows Seven or newer Microsoft operating system
x86 and x64 platforms are supported
Microsoft .NET Framework 4.7.2 or newer is now required to run GabNetStats. Download and install it now!
About 30 MB of free RAM
About 1.5 MB on a storage device
Download
You can find the latest version of GabNetStats on our GitHub repository. Here's a direct link but that's not guaranteed to be the latest release (go to the GitHub repository to be sure).
Current version
GabNetStats is currently in version 1.1.1.2.
Notes
(*) : This product is free for personal use. Corporate use is however subject to restrictions. For corporate use, please contact us.